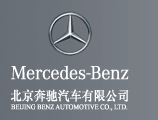 BBAC Annual Output Exceeds 600,000, Marking New Milestone of High-Quality Development
---
Source: Release Time: 2021-01-20 10:41:32
[January 18, 2021, Beijing] In the extraordinary year of 2020, BBAC rose to the challenge of ensuring the health and safety of all employees while maintaining stable operation, driving continued high-quality development of production, from product upgrades to advances in green and intelligent manufacturing. As a result, the company's annual output reached a new record, exceeding 600,000 vehicles to mark the 11th consecutive year of fast growth in production volume. This milestone serves as a solid proof of BBAC's strong competitiveness and a significant driver of the further solid development of Mercedes-Benz's business in China.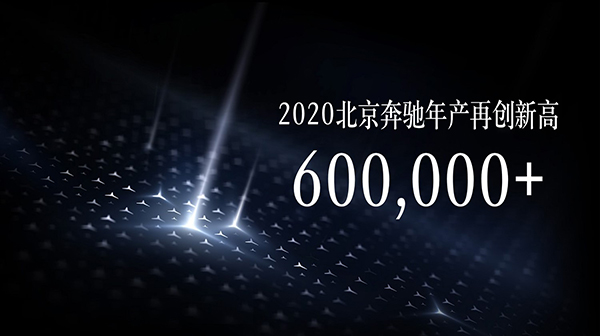 [Hero Image] BBAC production output exceeds 600,000 in 2020
Continued Product Portfolio Upgrades and Enhanced User Experience
In 2020, BBAC completed the update and upgrade of two Mercedes-Benz vehicles, the all-new GLA SUV and the new E-Class L. The all-new GLA SUV marked a major step forward in space, wind resistance, intelligent interaction, dynamic design and active safety, and is currently the popular compact Mercedes-Benz SUV. The new E-Class L featured upgrades in design, experience, intelligence and technology, with a more fashionable and dynamic style built upon the model's classic elegance, making the model the core of the Mercedes-Benz brand.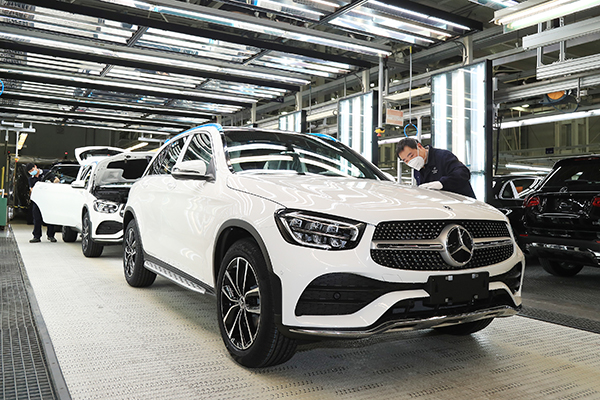 The Assembly Line of BBAC
These upgrades of the two locally-produced models were made possible by BBAC's continuous improvements in manufacturing. Adhering to the mission of "Build Mercedes-Benz in China!", and the spirit of "The best or nothing.", BBAC continued its introduction of new advanced and intelligent technologies, equipment and systems in 2020, further improving the quality and efficiency of production and quality management, ensuring a solid guarantee of the quality of its products.
Such advances in turn boosted a rapid increase in BBAC's output as the company sought to meet the growing market demand. In 2020, BBAC heralded several major milestones, including the completion of its 3 millionth engine and 3 millionth vehicle, leading up to its annual output record of 600,000 vehicles, marking that BBAC has stepped onto a new stage of high-quality development.
Continued Development of Green and Intelligent Manufacturing, Accelerating Transformation and Upgrading
Under the guidance of BAIC Group's "premium, innovation and specialty" strategy and Mercedes-Benz's "Ambition2039", BBAC has continued to pursue flexible, efficient, digital and sustainable development as it accelerates transformation and upgrading. The Shunyi Plant, which officially started operation in 2020, stands as a clear symbol of BBAC's commitment to and achievements in green and intelligent manufacturing.
Built according to Factory 56 concept, which embodies the future of production at Mercedes-Benz, the Shunyi Plant adopts Mercedes-Benz Cars Operations 360 (MO360), the new Mercedes-Benz digital production ecosystem, in both the production system and quality management, forming a fully digital and highly flexible production model. The plant has the capacity to produce a wide range of Mercedes-Benz products, including NEVs, to meet the increasingly diverse demands of the market.
BBAC is also committed to building the Shunyi Plant into a truly "green plant", operating in accordance with BBAC's Green Development Concept. In addition to featuring numerous measures for resource conservation and recycling, the Shunyi plant is vigorously developing new green projects including photovoltaic power generation, reclaimed water recycling, as well as gradually realizing paperless production with a view to achieving carbon neutrality.
Actively Living out Corporate Social Responsibility
While promoting its high-quality development, BBAC has been working hard to fulfill its commitment in CSR. As a leading enterprise of high-end manufacturing and a key driver of the economic development in Beijing, BBAC's total industrial output has increased 50 times since its founding in 2005, exceeding 100 billion yuan for five consecutive years, making it a significant contributor to the region's GDP and a major promoter of the successful conclusion of the 13th Five-Year Plan.
While contributing to the society, BBAC is also making efforts to promote the collaborative development of upstream and downstream enterprises in the automotive industry chain. As one of the first batches companies responding actively to the government's call to resume operation and production in a safe and orderly manner in 2020, BBAC and its supplier partners have been standing together to overcome challenges including shortages of protective materials, parts and personnel. In addition, BBAC has helped some of its local suppliers become key players in Mercedes-Benz's global supply chain network, promoting the optimization and development of the automotive industry chain and supply chain. In recognition of its achievements in supply chain ecosystem construction, BBAC was named a Green Supply Chain Management Enterprise, a distinction of honor from China's Ministry of Industry and Information Technology.
While learning from the past, BBAC is already planning for the future. Guided by the strategies of BAIC Group and Daimler, BBAC has unveiled its "Road to Excellence 2025" Strategy in 2020, centered around the company's commitment to building a passionate workforce, creating a globally flexible production and operation system, continuing to provide excellent products to Chinese consumers through operational excellence, and keeping its promise of responsible sustainability while enabling pioneering advances in digital production. Following this strategy, BBAC is confident in the continued acceleration of its high-quality development, contributing even more to the high-grade, high-precision and advanced transformation and upgrading of Beijing's automotive industry.